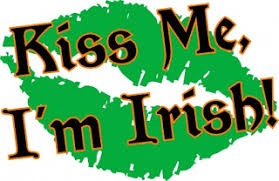 Throughout each year, we celebrate a variety of holidays. There are favorite holidays and those that kind of slip by without much notice. Then there are holidays that we simply celebrate for the joy of celebration. One of these holidays is St. Patty's Day, where everyone becomes Irish for a day. It is a party holiday that leads to a lot of good times for all and many "Irish" choose to wear creative apparel for St. Patrick's Day.
St. Patty's Day Popularity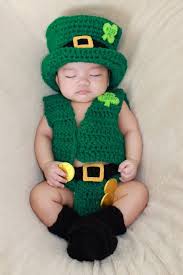 This holiday is also known as the "Feast of Saint Patrick". It is an Irish holiday that celebrates the foremost patron saint of Ireland, Saint Patrick. It also celebrates the arrival of Christianity in Ireland. Although it is an Irish holiday, many other areas of the world have taken on the celebration that happens on March 17, each year. There are parades, drinking, and other things for people who want to get in on the celebration, but one of the most popular traditions associated with this holiday is the wearing of green. During the month leading up to this holiday, green fills most stores around the United States as people start hoping to celebrate with the Irish.
Today's Parties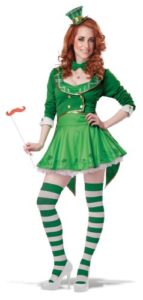 Shamrocks and wearing green are a huge part of celebrating the holiday. It is a holiday that is celebrated by people of all ages. Parents even dress their infants up as tiny leprechauns. School aged children have invented games where if they aren't wearing green they may be pinched by fellow classmates. The "traditions" associated with this special day are unending, but it is also a day that Christians can attend church services and the Lenten restrictions against eating and drinking alcohol are lifted. Due to the increased amount of alcohol consumption, especially in North America, many people dress for the occasion in some very creative ways. Anything green goes well with St. Patrick's Day. This includes top hats that are green and sometimes sparkly. Shamrock eye glasses and dessert items for you to enjoy as well as shirts that sometimes say things like "Kiss me I'm Irish". Cute dresses for ladies and even some that are provocative like the sexy leprechaun costume seen on Creative Costume Shop. Men are not exempt from the celebration and many of them can wear green vests and other items. It is a day that is dedicated to fun and some people start planning well in advance of the day for what they hope to do on that day.
Plan Your Party
Around the beginning of March, many people start planning for the big celebration. It is a very commercialized holiday in the states that seems to draw more people each year. Will you take part in the fun this year? Will you venture out to a parade, drink Irish beer at an Irish Pub, or simply host a party at your house with decorations. The truth is, it is a holiday where anything goes as long as you are having a great time while you are celebrating.
---
---